Conversiobot Review | Is this ChatBox Software legit for your website?
Topic: Conversiobot Review | Is this ChatBox Software legit for your website?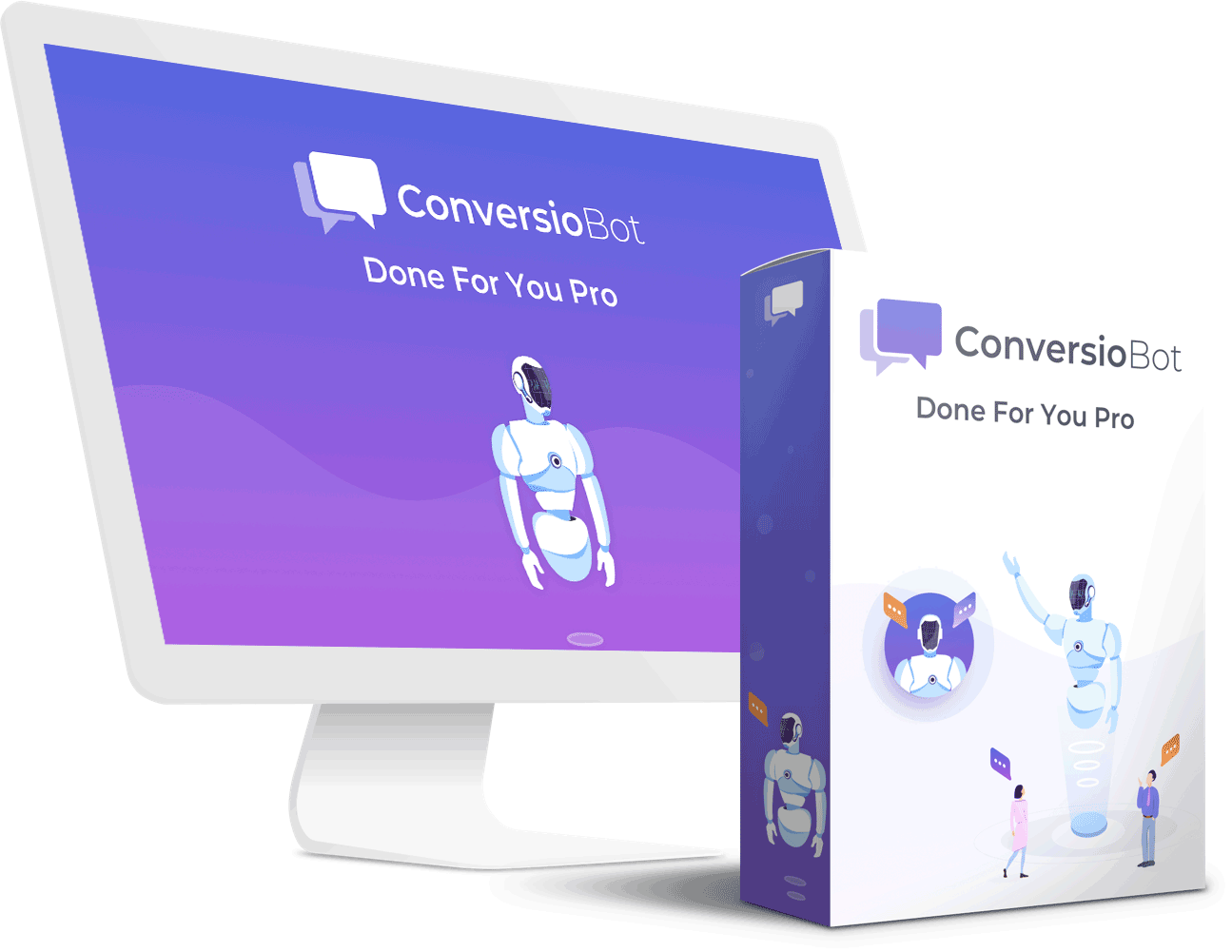 What Is Conversiobot?
Like the name suggests, Conversiobot is software that allows website owners to build chatbots for their blogs and websites and start conversations with visitors to convert them into leads. This approach will allow you to attract more traffic and get more clicks to your site while also creating more opportunities for sales. It's important to note that several conversiobot review sites online claim this program is a scam, but don't believe them right away because they don't have any substantial evidence to support their claims.
In fact, the software has a page on its website which goes into detail about how it works in order for you to be able to see whether it's right for your needs or not.
Out of all of the features offered by this program, I personally think that their Done-For-You Chatbots are probably the most impressive because they give people what they want without having to do any work or giving up privacy. By using artificial intelligence, this service will help you get more and more traffic over time while also converting those visitors into leads and sales as well.
Of course, if you don't like chatbots, you can use other features like surveys, quizzes, and forms to get more leads as well. I personally like the chatbot option because they're unique and work really well when used correctly. But again, that's my personal opinion on the subject.
The first thing you need to be aware of with this platform is that it comes with a 14-day free trial for new users. This will allow you to take full advantage of all of the features offered by the program and determine whether or not it's worth your investment.
What Is The Price Of Conversiobot?
Like most other products online, this program is available with a free trial which lets you try it out for 14 days before deciding whether or not to buy it.
There are also several pricing options once your free trial ends: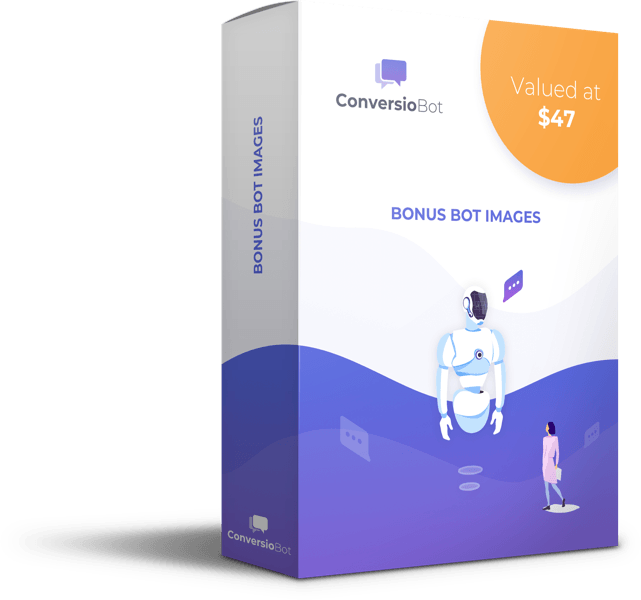 1 Year License (Per Month) – $47/Month
2 Year License (Per Month) – $34/Month
3 Year License (Per Month) – $29/Month
But here's the thing…if you click on one of those links, they will take you to a sales page where you're required to agree to their terms and conditions before you can proceed.
I find that to be a little bit deceptive because those are add-ons which cost extra money. Rather than just selling me the program as advertised on the homepage of Conversiobot's website, they want me to purchase an additional year or two in order to get a better price. In my opinion, that doesn't make sense for most people, especially when other companies will give you everything upfront instead of making customers jump through hoops.
Of course, there is also one last price option available for new users called the multi-user license, which is cheaper than the other plans. However, it isn't advertised on the Conversiobot website, so I don't know what that option is or how much it costs.
In my opinion, you shouldn't buy any additional years upfront just because the price might go up in the future and you won't get a refund if it does. That said, I do think this program is worth your time and money if those options don't matter to you, but please keep in mind there are better prices available elsewhere, as I will discuss later on in this review.
Taking everything into account, I would suggest skipping over these pricing options entirely for now and taking advantage of the free trial to see how well this program works for you.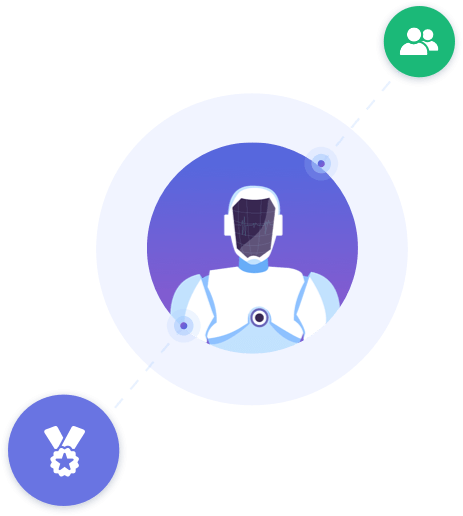 Does Conversiobot Come With A Guarantee?
Yes, Conversiobot comes with a guarantee that protects people from any hidden fees or issues you might run into when using their product. However, there is quite a bit of fine print you'll need to read through in order to really understand what that coverage entails. In my opinion, it would be better if they explained everything upfront without making visitors scroll down several pages just to find out whether or not it covers them; but unfortunately, that isn't the case.
The guarantee seems fine as long as you aren't concerned about trying this software for 14 days, but if you ever decide that you're not interested in continuing to use it you might have a difficult time trying to get back any money you spent on additional years.
To be fair though, I don't think this program is meant for everyone. Hence, they pretty much had to create an option for people who are committed enough to use the product long-term and want some of the perks offered by paying extra right from the start. Still, again, I would suggest using the free trial and then deciding whether or not this product works well for your needs.
What Are The Pros Of Conversiobot?
One of my favorite features about Conversiobot is its ability to help website owners convert their leads into sales. This AI tool allows you to fully customize the "Done-For-You" chatbots that come included with the program, or you can build your own custom bots using their simple drag and drop builder.
When I first tried out Conversiobot I was hoping that there would be some type of training system built in so I didn't have to figure everything out on my own. However, it comes with a step-by-step training guide that allows users to learn new features easily without needing any previous experience.
Simply follow one of the tutorials from within the member's area and enter this software into your website/blog as directed. You will then watch as Conversiobot does most of the work for you. The AI can effortlessly greet customers, collect data on what they're interested in, and then close the deal with a sale or free giveaway.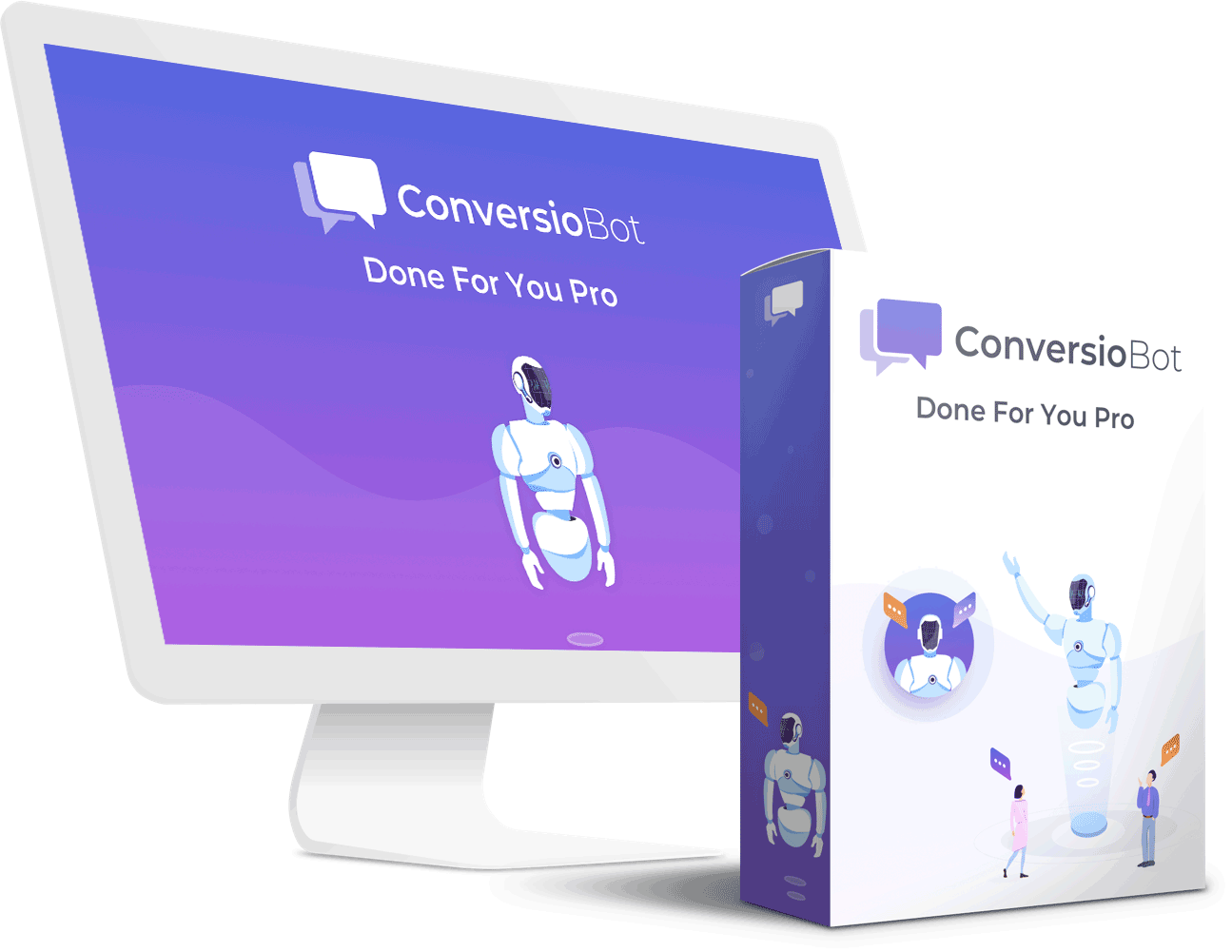 For example, if you're using this tool on an e-commerce site, it could say something like, "Hey there! If you have any questions about our products, please let me know, and I will be happy to answer anything for you. Otherwise, we are offering an exclusive discount code just for our visitors from [website]…." Sometimes people respond better when they feel like someone is actually listening to them instead of feeling like they're being spammed. So by allowing users to customize their chatbots really helps increase conversion rates, which ultimately makes Conversiobot very useful for any kind of business.
How Much Does Conversiobot Cost & Is It Worth The Price?
Right now, you can either pay $47 or wait until July 7th, when the price will increase to $97 if you want a full-year subscription. To be honest, though, I don't think that this program is worth paying extra for unless you actually plan on using it long-term. That's because they offer an extended free trial which lasts 14 days and starts from the moment that someone signs up to try out their system, so if you bought 10 years' worth of subscriptions right now, you would still receive all of those same features after your 14-day free trial ended. This might be my favorite part about this product because customers don't have to commit to anything until they know that it works well for their needs.
What Are The Cons Of Conversiobot?
This software only seems to work on WordPress sites, so if you are using any other type of site (like Blogger), you won't be able to use this program since there is no way to get the chatbot code into your blog or website. It would also be nice if they offered some sort of money-back guarantee, but unfortunately, there doesn't seem to be one available at this time. I suppose the biggest con is not knowing whether or not this tool will actually help grow your business since it doesn't offer a free trial.
However, you can contact one of their team members to let them know what your goals are, and they might be able to help you come up with a strategy for using the program so that it will work best for your blog or website.
What Are People Saying About Conversiobot?
Lastly, I want to briefly discuss some of the feedback that I found while researching this product online. It seems like people either really loved using this chatbot software or they didn't think it was worth buying because there was nothing unique about it; but in all honestly, most products aren't going to be perfect since every industry is filled with slightly different needs.
To me, Conversiobot sounds like an AI tool similar to what you might find on a self-hosted WordPress website, but the difference is that this tool was made with much more practicality in mind. And if you're running a blog or business where you want to grow your traffic and income, then this tool could easily help you do that.
In fact, there are even some examples of customers who have used it for their e-commerce stores and ended up receiving an additional $1 million in sales throughout the first few months of testing. Once again… those are just some specific cases where Conversiobot has helped certain brands make money, so whether or not it will work well for your particular niche depends mostly upon how willing you are to fully follow through with its training program.
What Are The Best Features Of Conversiobot?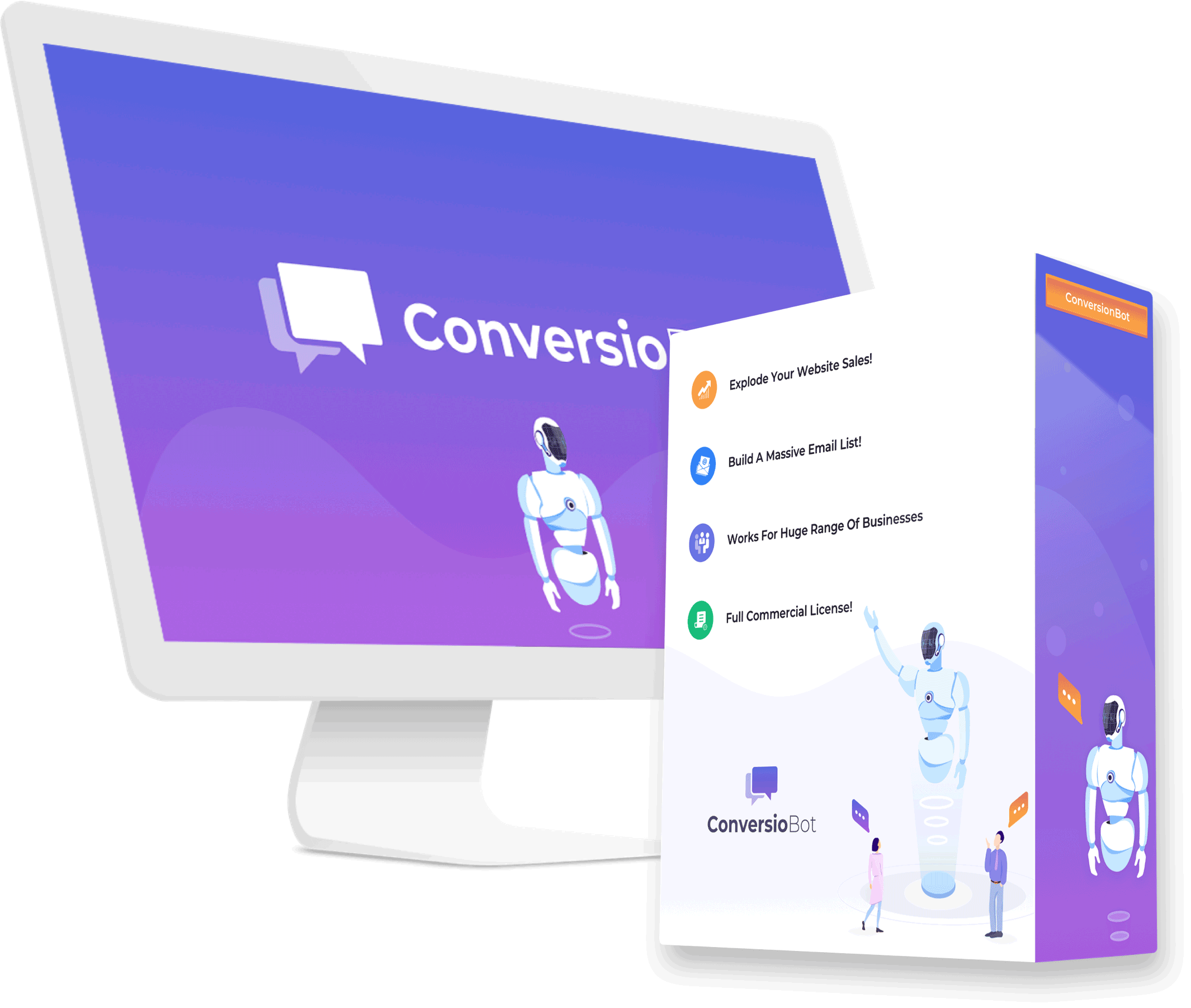 The best part about this product is that you don't have to worry about installing any sort of server-side scripts onto your site, so if you know how to install the chatbot directly onto your WordPress site, then it's completely done for you. Also, they have a LOT of different bots that help provide support for various niches, and all those "Done-For-You" bots are available by simply purchasing one year's worth of subscriptions.
There are also some other neat features, like the fact that these chatbots can be run on both your website or blog AND live on Facebook Messenger, so I would recommend checking out this program just because it can help you direct more leads to your business.
I know many marketers who are using Conversiobot to help their businesses either grow or maintain a healthy conversion rate, and I would definitely recommend checking out this program just because it does look like an all-in-one tool for building a user community of paying customers.
What Are The Biggest Problems With It?
The biggest issue that I have with this system is that it doesn't seem to work well on any site other than WordPress, so if you own a Blogger blog, there's not much use in installing the chatbot code into your site. In addition, there isn't even an option for installing the bot onto any sort of CMS (Content Management System), and you'll only be able to place it on a WordPress site.
Also, you're going to have to pay for each additional bot that you want to add, so if your website is in an industry where there's a ton of different bots then Conversiobot might not work as well since the system will either charge you per bot or offer a subscription-based plan instead. However, I think it would still be worth using this chatbot software just because it can help provide some much-needed conversions with just one simple line of code; but keep in mind that these subscriptions do get expensive if you don't know how to stop yourself from overspending.
Who Would This Benefit Most?
One last thing to mention is that if you plan to build a new website, I recommend using the Conversiobot chatbot tool for at least a few months, and preferably throughout the entire launch process of your site. The reason why is because it will help grow your user base at a steady rate, instead of just hoping that someone will stumble across your website and make an impulse buy.
Generally speaking…
Overall, I really think this program can benefit any online business owner who is looking to increase their conversion rates. And since most businesses are always trying to expand and build upon their previous successes, it's clear how this program could greatly benefit anyone from start-ups all the way up to Fortune 500 companies. So if you're thinking about purchasing this program then I definitely recommend doing so, because it does seem to be a great tool that can help you build a user community of paying customers.
However, since there are some drawbacks to Conversiobot (such as the inability to install it on any platform except WordPress), I'm only going to give this product a rating of 3 stars out of 5… at least for now. But I will update this review once more information is made available after taking into consideration recent changes and updates, such as price adjustments or additional features added onto this system.
In closing, if you want more info about how to use Conversiobot on your website then just visit their website and speak with the provider there, who will gladly give you any additional information about this software.
Thanks for reading my Conversiobot review!